Mood-Pictures has quickly become one of the leaders in the hard spanking and caning video scene. They´ve challenged the position of RGEFilms with a seriesof magnificent and truly hard productions. Love Story is yet another thrilling experience from Mood Pictures that features Andrea, who´s waiting for herboyfriend Peter to come home. Much to her surprise a girl named Lydia arrives instead, and it turns out they´re sharing Peter as a boyfriend.

Who´s gonna have the guy? The matter is resolved by Peter´s sister, who delivers them a loving caning each, and the one capable of enduring the hardest treatment gets Peter. Of course it all winds up in a fairly severe caning with each girl receiving no less than 50 strokes to their bare bottom.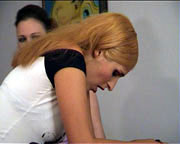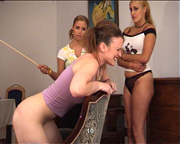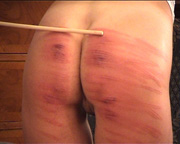 The sister actually seems to be doing her best to deliver the strokes full force, and after a while the cries and moans reveals that theirs truly a seriousamount of pain involved. The two girls on the recieving end finish their 50 strokes each, and afterwards they take turns caning eachother. These strokes arenot nearly as hard, and specially one of the girls are giving pretty weak strokes.

The girls in this movie are truly goodlooking and their attractiveness makes the excitement of the canings even higher. And the canings are of substantial severity. It´s not as hard as for instance the Rig-East classic Wild Party, but if you´re into severe caning this still has some nice footage to offer. The movie could have benefitted from slightly more and better lit facial expression shots, but there´s still a good amount of chances of seeing the girls whilst receiving their punishment.

The technical side is hard to question. It´s all very well composed and easy to follow. Personally I´d prefer a little more light and more closeups on faces, but its a matter of taste more than quality. The story is what it is, nothing extraordinarily creative but a necessary setup for what it´s all about - a severe caning of 2 highly attractive females.